Smoky bacon, melted cheese, and crisp chives—Yes, please!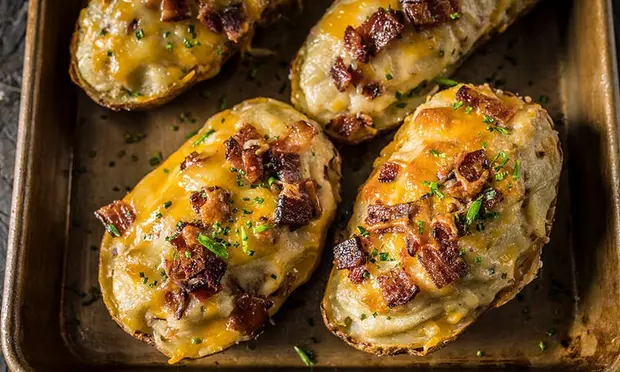 Prep Time: 25 minutes
Cook Time: 1 hour
Pellets: Hickory
Servings: 8 people
Ingredients
8 Medium russet potatoes

2 Cup hot milk

12 Tablespoon butter, melted

2 Tablespoon minced chives (optional)

6 Strips cooked bacon, crumbled

salt and pepper

2 Cup shredded cheddar cheese

additional minced chives, for garnish
Steps
When ready to cook, set Traeger temperature to 450℉ and preheat, lid closed for 15 minutes. Scrub the potatoes under cold running water and pat dry with paper towels. Poke in several places with a fork. Arrange the potatoes directly on the grill grate and bake for about 1 hr and 15 minutes, or until the potatoes are cooked through. Use oven mitts to transfer the potatoes to a rimmed baking sheet. Let the potatoes cool slightly for 5 to 10 minutes. Reduce grill temperature to 375℉. Cut the potatoes in half lengthwise, and scoop the potato flesh into a bowl leaving a 1/4 inch shell. With a mixer, whip the potatoes on low speed for about 30 seconds. Slowly add the hot milk and melted butter. Increase the speed to medium-high and whip until the potatoes are fluffy and smooth, roughly 1-1/2 to 2 minutes. Stir in the chives and bacon. Add salt and pepper to taste. Lay the hollowed-out potato skins on a large baking sheet and fill each skin to heaping with the whipped potato filling. Top each potato half with a generous sprinkling of cheese. Cook at 375℉ for 20 minutes or until golden brown and cheese is melted. Remove from grill and top with chives, if desired. Enjoy!