TIMING IS EVERYTHING As if cooking every Thanksgiving dish wasn't enough work, there's the added challenge of making sure they're all ready to hit the table at the same time. Between prepping the food, managing grill space and dealing with hungry guests, it can be a serious challenge. Luckily for you, we've created a complete Traeger Thanksgiving timeline to help you plan out your schedule and stay on track throughout the day. With a little prep and planning, you can make cooking an incredible wood-fired feast look effortless to your guests.
BEFORE THE BIG DAY There's a whole lot to do before you ever fire up the Traeger. Obviously, you'll want to buy all your ingredients ahead of time so you're not scrambling to find a grocery store that's open during the holiday. If you bought a frozen turkey, you'll need to start thawing it in the refrigerator up to 5 days in advance, depending on size. And whether you have a frozen or a fresh turkey, you'll want to brine it overnight to infuse it with maximum moisture and flavor.
Beyond that, there are a few things you that you can prep ahead of time to clear up extra grill and kitchen space on turkey day. Pies can be made the day before and then popped in the oven for a quick reheat before dessert (or, in the case of pumpkin pie, just served cold). Casseroles are another great candidate for prepping the day before – they'll spend less time on the grill the day of. Remember, even little tasks quickly add up, so every advantage counts.
THE MENU Traditional Thanksgiving Turkey Homemade Turkey Gravy Traditional Stuffing Rosemary & Thyme Mashed Potatoes Bacon Green Bean Casserole Pumpkin Pie
THANKSGIVING TIMELINE This timeline is based on a 3pm serving time. If you plan on serving dinner earlier or later, just be sure to adjust all the listed times accordingly.
– 7:30 AM – Make/prep the dough for pie (if you're not using premade). Combine all ingredients for the filling.
– 7:45 AM – Time to fire up the grill. Make sure the hopper is full of pellets and preheat to 325°F.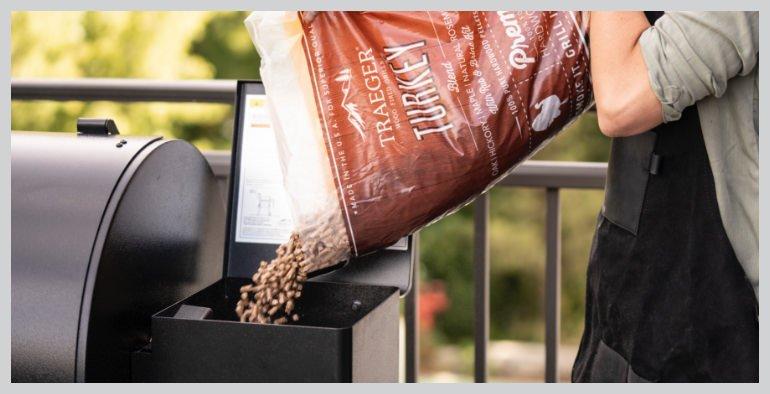 – 8:00 AM – Place pumpkin pie on the grill. Check about 30 minutes in by shaking it and looking for the center to be set. Overcooking will result in cracking.
– 8:15 AM – Start prepping the turkey. Remove from brine, pat completely dry, place aromatics in the cavity, season the exterior and place in a roasting rack. Place more aromatics, neck, gizzards and a small amount of stock in bottom of roasting pan. Set aside.
– 8:50 AM – By now the pie should be done. Remove and let it cool in kitchen. Reduce grill temp to 300°F.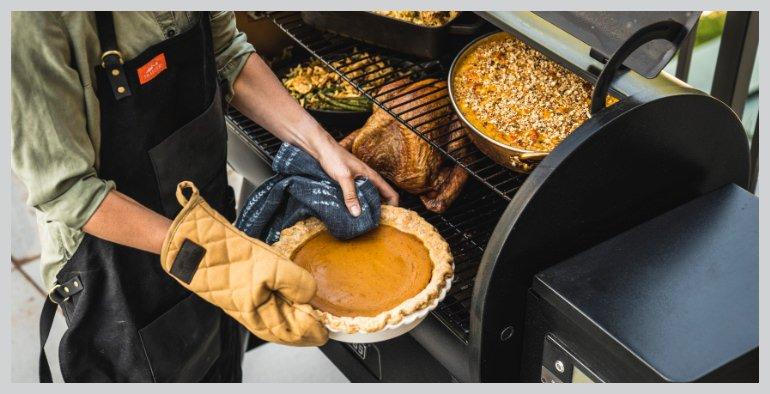 – 9:00 AM – It's the bird's turn. Put the turkey on the grill at 300°F.
– 10:00 AM – Go ahead and set the table. Yeah, it feels weirdly early, but you'll be glad you did when you realize it's one less thing to do later.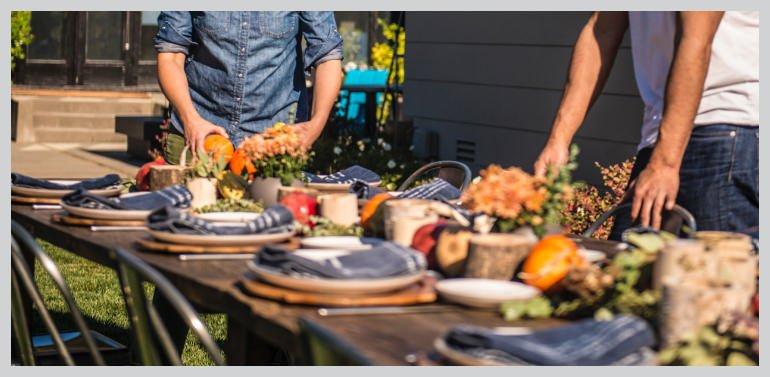 – 10:00 AM – 1:00 PM – Now it's time to do some serious prepping for your sides.
For mashed potatoes: 1. Chop garlic 2. Scrub potatoes
For green bean casserole: 1. Trim and blanch green beans 2. Place beans in a pot of boiling water for 5-7 minutes, until tender. Strain and place in ice bath. Drain and dry thoroughly 3. Cook and chop bacon 4. Dice bell pepper
For stuffing: 1. Brown sausage in pan 2. Dice celery and onion 3. Chop sage and mince thyme
– 1:00 PM – Remove turkey from grill once internal temp reaches 160°F (will rise to 165°F while resting). Turn grill up to 350°F.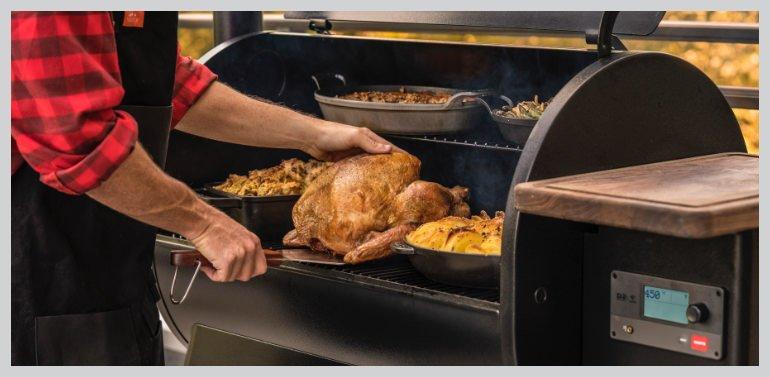 – 1:05 PM – Place stuffing, cleaned potatoes, and cream for potatoes on the grill. This is also not a bad time to crack a beer or pour a glass of wine to help you through the final stretch.
– 1:20 AM PM – Remove cream for potatoes from grill and keep warm. Start gravy by straining drippings and skimming fat before finishing on stove. Keep warm until serving.
– 1:50 PM – Remove stuffing from grill and keep warm.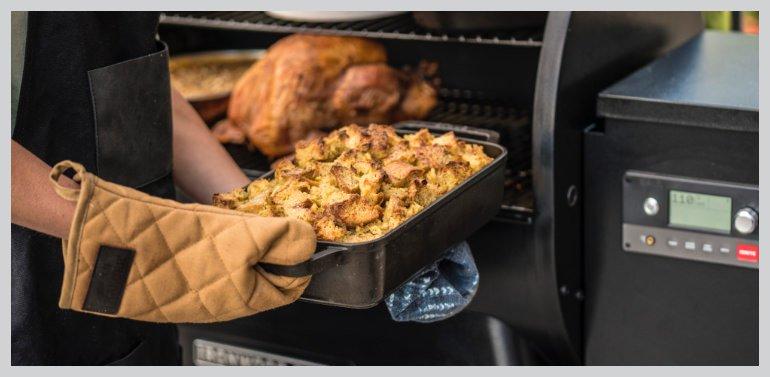 – 2:00 PM – Place green bean casserole on grill.
– 2:05 PM – Remove potatoes and take inside to finish.
– 2:15 PM – Mash potatoes with food mill or by hand and combine with cream mixture. Set aside in serving dish to keep warm.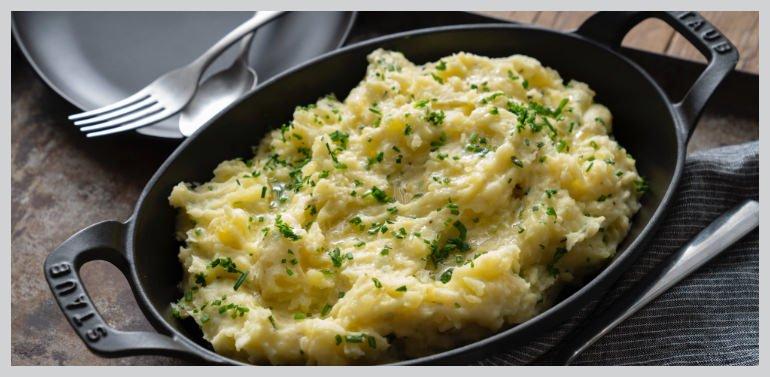 – 2:45 PM – Remove green bean casserole from grill and set aside. Initiate grill shutdown cycle. Transfer all finished dishes to the table.
– 3:00 PM – Present turkey to the table and show off your carving skills (*if you'd rather not carve in front of an audience, you can present the turkey and then take back to the kitchen to carve or carve at 1:30 and keep warm). Then let the feast begin.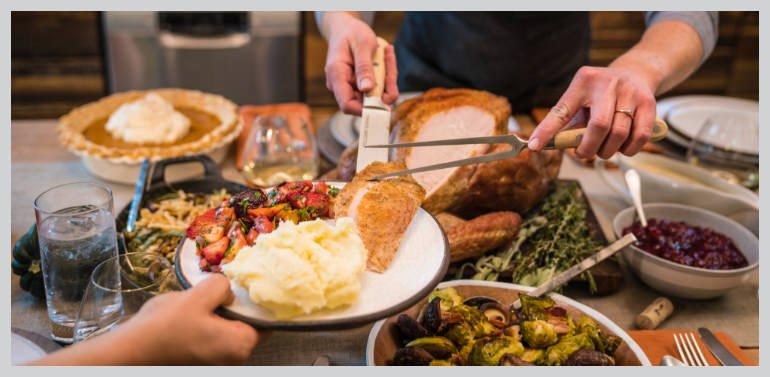 Whether you're following this timeline exactly or just using it as a general guide, it will give you a good feel for the prepping, planning and timing needed to make a Traeger Thanksgiving feast come together perfectly.
Head to our Thanksgiving hub to build your own custom menu, learn turkey tips and tricks, and find recipes for everything from side dishes to drinks and desserts.