This crowd-pleasing pairing is sure to make the top of your list. Tender, reverse seared tri-tip is topped with a tangy herb chimichurri sauce for the perfect any-day entree.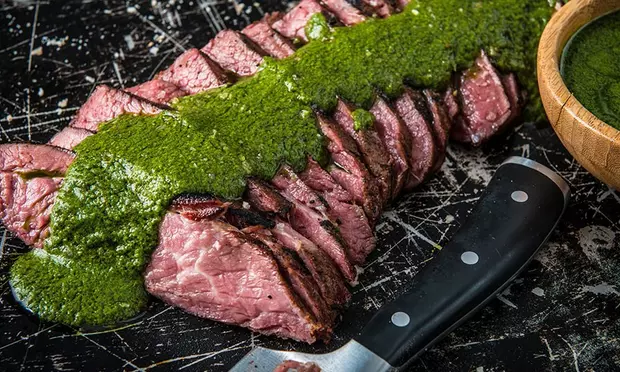 Prep Time: 20 minutes
Cook Time: 1 hour
Pellets: Hickory
Serves: 4 people
Ingredients
1 (4-5 lb) tri-tip, trimmed

Traeger Beef Rub
CHIMICHURRI
2 Cup packed fresh Italian parsley

4 Teaspoon dried oregano or 1/4 cup packed fresh oregano leaves

4 Clove garlic, peeled and smashed

1 Cup extra-virgin olive oil

1/4 Cup red wine vinegar

1/2 Teaspoon kosher salt

1/4 Teaspoon freshly ground black pepper

1/2 Teaspoon red pepper flakes
Steps
Season tri-tip liberally with Traeger Beef rub. Allow to sit at room temperature for 30 minutes. Place all ingredients for chimichurri in a blender and pulse until it reaches a chopped-like consistency. When ready to cook, set Traeger temperature to 225℉ and preheat, lid closed for 15 minutes. For optimal flavor, use Super Smoke if available. Place tri-tip directly on the grill grate and smoke for 60-90 minutes or until an instant read thermometer inserted in the thickest part of the meat registers 125℉. Remove meat from grill and increase grill temperature up to 500℉. Preheat, lid closed for 15 minutes. Place tri-tip back on grill and sear for 5 minutes per side. Remove from grill and let rest 10 minutes. Slice tri-tip against the grain and serve with chimichurri sauce on the side or spoon over the top. Enjoy!