Elevate your dessert with some wood-fired sweetness. Farm fresh stone fruit is given some grill marks, drizzled with a balsamic reduction, and topped with homemade whipped cream for a smooth finish.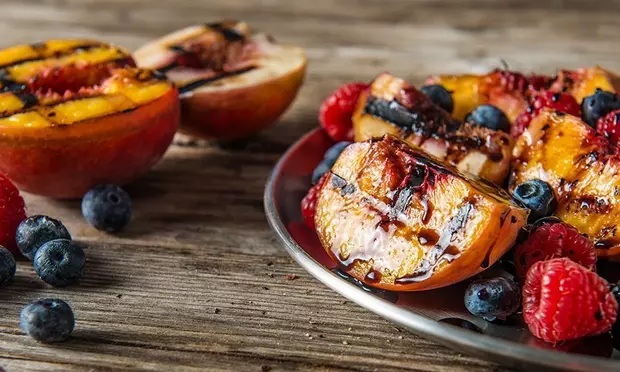 Ingredients:
2 peaches, halved

2 apricot, halved

1 nectarine, halved

1/2 Cup balsamic vinegar

3 Tablespoon honey, divided

1 Tablespoon orange peel

2 Cup cream

1/2 Cup fresh raspberries

1/4 Cup blueberries
When ready to cook, set Traeger temperature to 400℉ and preheat, lid closed for 15 minutes. Grill the apricots, nectarines, and peaches for 3 to 4 minutes per side. They should have grill marks and a light smoky taste. For the Balsamic Reduction: In a pan on the stove over medium heat, add balsamic vinegar, 2 tablespoons honey, and orange peel. Let simmer and reduce to a medium-thick consistency. Meanwhile in a mixing bowl, add cream and 1 tablespoon honey and whip until soft peaks form. Arrange grilled stone fruits on a plate, sprinkle berries, and drizzle balsamic reduction atop all of the fruit. Serve with whipped cream on the side. Enjoy!
This recipe was originally published on Traeger's website. Be sure to check out our selection of Traeger grills as we are Iowa's Traeger dealer!