Cover your chicken breasts with a smattering of spices, grill them hot and fast, and mop them with a BBQ sauce concoction for perfectly tangy chicken.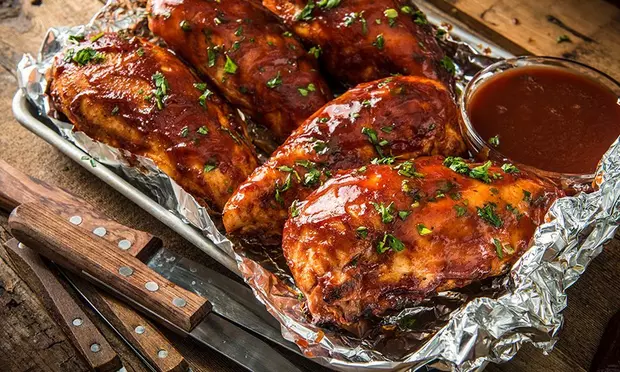 Prep time: 20 minutes
Cook time: 30 minutes
Pellets: Hickory
Feeds: 4 people
Ingredients
4 Whole chicken breasts

1/4 Cup olive oil

1 Teaspoon freshly pressed garlic

1 Tablespoon Worcestershire sauce

Traeger Fin & Feather Rub

1/2 Cup Traeger Sweet & Heat BBQ Sauce

1/2 Cup Traeger 'Que BBQ Sauce
Steps
In a small bowl, whisk together the olive oil, garlic, Worcestershire sauce, and Traeger Fin & Feather rub. Cover chicken breasts with mixture. In a separate bowl, combine equal parts Traeger Sweet & Heat and Traeger 'Que BBQ sauce. When ready to cook, set temperature to 500°F and preheat, lid closed for 15 minutes. Place chicken directly on the grill grate and grill for 20 to 30 minutes, or until the internal temperature reaches 160℉ in the thickest part of the breast. Five minutes before the chicken is done, glaze the chicken with BBQ sauce mixture. Remove from grill and let rest 5 minutes before slicing. Enjoy!