Say hello to one hearty breakfast bite. Sausage cups are grilled on the Traeger then filled with cheesy pepper gravy for an extra dose of flavor.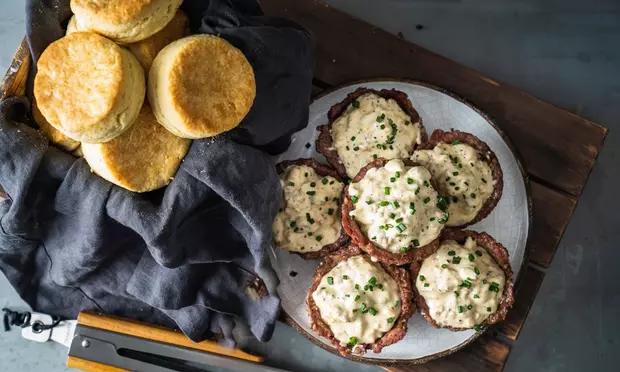 MAIN INGREDIENTS
2 Pound ground sausage

nonstick cooking spray

2 Tablespoon Traeger Pork & Poultry Rub
CHEESY SAUSAGE PEPPER GRAVY
1 Tablespoon unsalted butter

1/4 Cup finely chopped sweet onion

1 Pound ground sausage

1 1/2 Cup milk

1/2 Cup heavy whipping cream

2 Tablespoon all-purpose flour

1 Cup shredded smoked mozzarella or Gouda cheese

2 Tablespoon black pepper, plus more for garnish

2 Tablespoon dried chives, plus more for garnish

salt
When ready to cook, set Traeger temperature to 250°F and preheat, lid closed for 15 minutes. Flip a full-size muffin pan over. Spray the bottom of the tin liberally with nonstick spray. Divide the sausage meat into 12 equal portions. Mold the  sausage over the muffin cups. Sprinkle generously with Traeger Pork & Poultry Rub. Place the tin on the Traeger and bake until sausage reaches an internal temperature of 155°F. While the sausage cooks, make the gravy.
In a medium saucepan, melt butter and sauté onions until just softened. Add in ground sausage breaking up any clumps with a wooden spoon and cook thoroughly. Place the cooked sausage and onions in a bowl, and set aside while you continue to make the gravy.
In the same pot, bring the milk and heavy cream to a simmer. Whisk in flour and continue to whisk just until thickened. Add in shredded cheese, pepper and dried chives, and stir until cheese is melted and combined. Add in the sautéed onions and sausage mixture, and salt to taste.
Once the sausage cups have reached an internal temperature of 155°F, carefully remove them from the muffin pan and place directly on the grill. Continue to grill until the internal temperature reaches 165°F. Remove from grill. Fill each individual sausage cup with the gravy, and garnish with chives and black pepper. Serve with biscuits if desired. Enjoy!
This recipe was originally published on Traeger's website. Be sure to check out our selection of Traeger grills as we are Iowa's Traeger dealer!